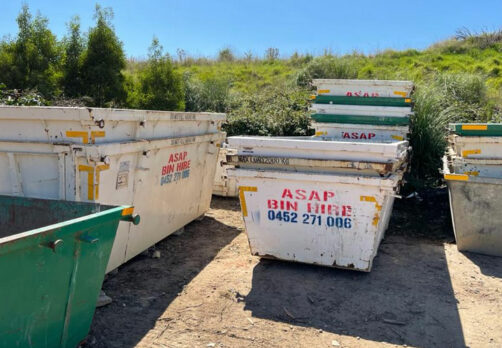 Manage you waste by using
Waste Bin from Skip Bin Hire
Are you looking for specific skip waste bins for hire that can accommodate any type of waste? Cheap waste bins can easily take care of your garbage disposal needs. Hiring a skip bin is always an ideal way to dispose of any type of garden waste or household rubbish especially when you have a lot of garbage or planning to clean lot many things. In few areas, there are strict laws and regulations imposed that allows you to dispose of specific types of waste so it affects what can and can't be placed in a skip bin. You can easily contact a specific waste bin hire to know about what can or can't be placed in a bin.
It is important to understand what kind of garbage you can dispose of in a waste removal bins and these rules apply to any specific type of waste you want to get rid of. Disposing certain specific type of waste or mixing it them incorrectly in a skip bin requires an additional money or the garbage is returned to you. To avoid any additional charges, there can be two main limitations that can be imposed to your waste management bins.
The specific type of waste can be disposed in a bin but they should not be mixed with any other waste.
The waste management bins must not contain hazardous materials or chemicals including e-waste.
What kind of general waste can I put in the skip bin? Most of the household waste includes food leftovers, boxes, clothes, toys, carpet, white goods, timber, furniture or different other types of green wastage. Waste items prohibited also includes paints, oils, chemicals and thinners. To avoid additional charges or chances of garbage being returned, you must avoid putting these items in your regular waste removal bins.
Bricks & Concrete
, Sand & Soil
Can bricks and concrete go in a skip bin? This is a common question which most people have before choosing a waste bin hire. The truth is that you cannot dispose of bricks and concrete in the general waste as it must be disposed of separately. This may include concrete, roof tiles, floor tiles, bricks or pavers. No other materials must be included in small quantities. Additional charges may be enforced if the strict rules are not applied by an individual. Similarly, sand, solid and dirt can't be disposed along general waste and must be disposed of separately.
Green waste bin hire can take care of any specific green waste available for disposal and recycle it properly. Organic waste includes leaves, grass, bark and branches. Disposing of green waste can be like the same way as general waste. There are not many rules applied for green waste and you can easily include this waste with others. You can't put liquid waste (oils, thinners, paints etc.), LPG gas cylinders, Tyres, batteries, e-waste, asbestos etc. Still having doubt what to put and what not? Contact Skip Waste bins for hire and get the best waste disposal services.